Best Protein Powders of 2018
​

Protein, wheter from food sources or supplements, is a non-nengotiable part of a healthy diet. It can help you build muscle, lose weight, recover quickly from physical activity, and stay healthy overall. The protein powders on this list can help you reach your goals a little faster.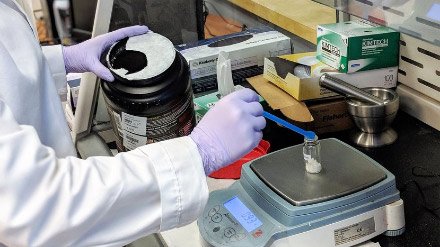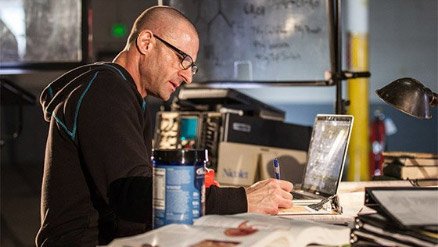 Adding protein powder to your nutrition plan can help you prepare for or recover from exercise, protect your muscles from breakdown, and help you meet your daily protein needs. Protein can be especially helpful if you have weight loss or muscle building goals.
Why You Should Take Protein Powder
If you work out a lot, you might need extra protein to repair your muscles after exercise and get stronger. It can be hard to get enough protein from food, so adding protein powder to your diet is a convenient way to get your protein intake high enough.
Benefits of Protein Powder
Muscle Growth
Protein Powder is high in amino acids, the building blocks of muscle. Amino acids help repair your muscle tissue after a workout and build it back stronger and bigger. They are the fuel you need to build muscle.
The amino acids in protein powder can also help protect your muscles from breaking down, especially when you're on a low-calorie diet or have a light-speed metabolism. This is one reason a lot of people who lift like to have a protein shake before bed, when the body will be without food for a long time.
Weight Loss
When you're working on losing fat, protein powder can give you a leg up in a few ways. For one thing, it's very filling while containing relatively few calories, so it can keep you from feeling hungry when you're dieting.
Also, since protein powder supports your muscles, it can help your metabolism stay high. Muscle burns more calories than fat, so the more muscle you have (even if you don't look big), the more calories you burn.
Plus, it takes more energy to digest protein than calories and fat, so the more protein you eat, the more calories you burn through digestion.
So, what's the best protein powder? It depends on your goals. If you want a fast-acting post-workout shake, stick with whey isolate and whey hydrolysate. If you want a before-bed protein, go for one that includes casein.
These are the best protein powders you can buy:


Optimum Nutrition
protein : 24g
Carbs : 3g
calories : 120g
per serving : $0.79
This product has been on the market for 24 years and counting, and in many ways, has set the standard for whey protein powder. Part of the reason for its success is that Optimum Nutrition owns every step of the manufacturing process. This gives Optimum complete control over quality and consistency, so you get a product that's high in protein (24 grams) and rich in muscle-building branched-chain amino acids, or BCAAs (5.5 grams). Comes in 20 (yes, 20) flavors, including cake donut, key lime pie, and rocky road.
Bodybuilding.com Supplement of the Year 10 years in a row
Mixes easily with a glass and spoon


JYM Supplement Science
protein : 24g
Carbs : 7g
calories : 150g
per serving : $1.10
22,433 Reviews
JYM founder Jim Stoppani, Ph.D., is a well-known figure in the world of exercise physiology and biochemistry. He's also a freakishly tough bodybuilder. Stoppani used this combination of skills to formulate an entire line of nutrition supplements, the crown jewel of which is his Pro JYM protein powder. Pro JYM is a blend of whey, casein, and egg proteins that provides both fast and long-term amino acid availability to boost muscle growth. Make your taste buds happy with Chocolate Cookie Crunch, Cookies & Cream, S'mores and eight more unique flavors.
Bodybuilding.com Brand of the Year
Exclusive flavors you can't get anywhere else
Review : Pro JYM
protein : 25g
Carbs : 2g
calories : 120g
per serving : $0.99
2,292 Reviews
Gluten-free and with 25 grams of fast-digesting hydrolyzed whey protein isolate per serving, ISO100 also delivers 5.5 grams of BCAAs to amp up muscle building and joint protection. With less than a gram of fat and less than a gram of sugar, ISO100 can help you reach both muscle-building and weight-loss goals. Comes in 12 flavors that only sound naughty, including birthday cake, cinnamon bun, and gourmet chocolate.
Ultra pure and fast absorbing
Available in two stevia-sweetened natural flavors


BSN
protein : 22g
Carbs : 15g
calories : 200g
per serving : $0.94
33,868 Reviews
With 22 grams of protein per scoop, yielding 10 grams of essential amino acids, and eight delicious flavors, Syntha-6 has a lot going for it. Its fast-digesting nutrients help you build muscle and maintain strong joints, and some very tasty flavors guarantee you'll never get bored with your daily protein shake. Syntha-6 is made from multiple types of protein to allow for fast and slow absorption, along with a good dose of carbs to help you recover energy for the next workout. Treat yourself to chocolate cake batter, peanut butter cookie, or any of their other decadent flavors, including the newest lineup of BSN's Coldstone Creamery ice cream flavors.
Indulgent milkshake taste and texture
Cold Stone Creame
MuscleTech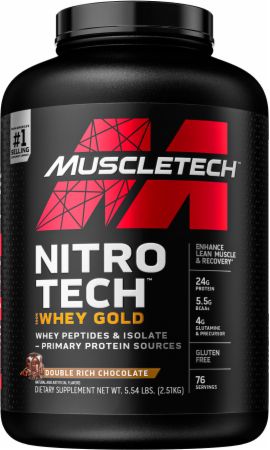 protein : 24g
Carbs : 2g
calories : 120g
per serving : $0.75
1,727 Reviews
A powerful combination of whey peptides and whey protein isolate makes this great-tasting, low-cal protein powder the perfect choice when you're ready to build some serious muscle and lose some serious weight. Each serving contains 24 grams of protein and only 2 grams of carbs, 2 grams of fat, and 120 calories. Whey Gold comes in a wide range of unusual flavors including churro and dulce de leche.
Cold microfiltration processed whey
Exceptional mixability
protein : 25g
Carbs : 3g
calories : 130g
per serving : $0.63
8484 Reviews
A relatively new competitor among protein powders, our Signature 100% Whey Protein is based on Bodybuilding.com's 20-year track record in the health-and-fitness industry. Customers like its rich taste and high-quality nutrient profile—and they like the price, too! Our price per serving out of a 5-pound jug is 15 cents less than similar formulations. Plus, it comes in highly rated flavors including chocolate, vanilla, and mocha cappuccino, each with 25 grams of protein per serving for ultimate muscle growth and recovery.
Digestive enzymes for amino acid absorption
Great value




EVLUTION NUTRITION
protein : 25g
Carbs : 5g
calories : 140g
per serving : $1.04
21,338 Reviews
Evlution creates a 24-hour protein supplementation program with this blend of whey, egg, and casein protein. Taken at the right intervals, this combination of different absorption rates provides the body with a constant supply of muscle-building proteins—and does it at a low cost. This formula boasts 25 grams of protein, which yields 5 grams of BCAAs per serving. Choose from flavors including vanilla ice cream, chocolate decadence, and cookies & cream.
Blend of fast and slow-release proteins
Natural formula also available
MuscleTech
​
protein : 30g
Carbs : 4g
calories : 160g
per serving : $0.87
32,036 Reviews
MuscleTech adds extra creatine to its NITRO-TECH protein to boost muscle building, energy, and performance. With 30 grams of protein per serving, this product will help just about anyone meet or exceed their daily protein needs. It comes in delicious flavors like toasted s'mores, cookies and cream, and decadent brownie cheesecake.
3 grams of creatine per serving
Wide range of unique, delicious flavors


MusclePharm
protein : 25g
Carbs : 5g
calories : 130g
per serving : $0.67
22,978 Reviews
Combat Powder combines different protein sources for both fast and slow absorption to keep your body fueled all day and all night. Made with three forms of whey, along with egg and casein proteins, this powder will help you build muscle mass and strength long after you've left the gym. Look for its chocolate milk, cookies n' cream, and banana cream flavors.
Award-winning taste
Versatile formula for any time of day, especially nighttime


Animal
protein : 25g
Carbs : 4g
calories : 125g
per serving : $0.84
1582 Reviews
Animal has taken the standard ingredient list for whey protein and added digestive enzymes for easy digestion and absorption. This product comes in at 25 grams of protein per serving, with 3 grams of carbs, 1 gram of fat, and 121 calories. You'll never get bored with Animal Whey and its wide range of flavors including red velvet, frosted cinnamon bun, and pumpkin pie.
Wide variety of unique flavors
Third-party quality certified